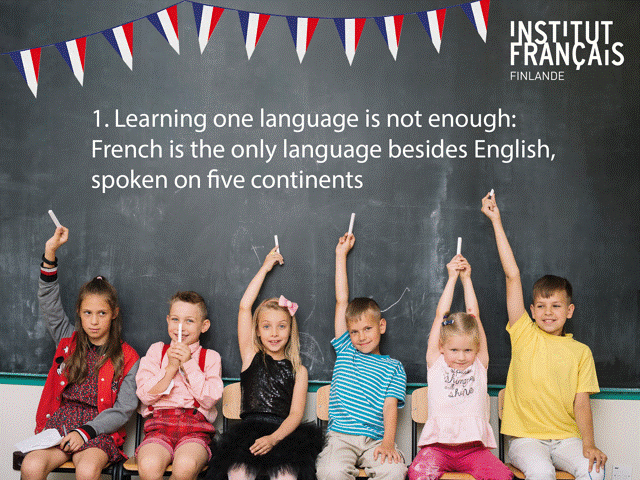 Kindergartens
French kindergartens give your child the opportunity to learn French through games and activities. If you would like more information on how these kindergartens and schools work, please contact them directly.
French schools
The Jules Verne School is part of the AEFE. It offers teaching in nursery and primary classes, which follows the French curriculum, taught by teachers who are members of the French National Education system. It also offers secondary education in partnership with the European School of Helsinki for non-Finnish speaking pupils and with the Lycée franco-finlandais for Finnish speaking pupils.
The Rauma school

is a school managed by the Mission Laïque Française and a partner of the AEFE. It has a pre-elementary and primary education and a secondary education with the CNED, assisted by two repeating teachers from the French National Education and six speakers of modern languages. It is a school reserved for families of French companies.
French-Finnish schools
The French-speaking system in Finland is also composed of three bilingual French-Finnish schools. They are supported by the Finnish education authorities, but also by the French State and the support of the Embassy and the French Institute of Finland:
The French-Finnish School : State secondary school created by the 1977 Intergovernmental Memorandum of Understanding between France and Finland. The school extends from pre-school to high school. Among the teachers are about 20 French-speaking teachers, including the head of French studies. The school had 820 pupils at the start of the 2019-2020 school year. The school was awarded the FrancEducation label in 2013.
⇒Destination francophonie Helsinki


The French-Finnish school in Tampere

: Since its creation in 1986, under an agreement between the city of Tampere and the French Embassy, the program extends from kindergarten to middle school with 199 pupils at the start of the 2019-2020 school year. Its pedagogical team includes 5 French-speaking teachers.

The teaching is 50% in French in primary school and 40% in secondary school. The school has awarded the FrancEducation label since 2012.
The French-Finnish school in Turku: Created in 1993 by an agreement between the city of Turku and the French Embassy, this bilingual primary (Vähä-Heikkilä school) and secondary (Topelius school) section includes 190 pupils at the beginning of the 2019-2020 school year. Among the pedagogical team, there are 2 French teachers. Teaching is 30% in French at the beginning of primary school and 50% at the end of the cycle; it is 40% in middle school. Vähä-Heikkilä School and Topelius College received the FrancEducation Label in September 2015 and 2018.