Four young scientists, laureates of the French Institute Nordic Award, will present their research work aimed at understanding and preventing nature conservation and biodiversity.
Helena Tukiainen (Finland), Justine Ramage (Sweden), Julie Strand (Denmark) and Annabel Mempel (Norway) will discuss the dynamics of geodiversity and biodiversity, the impact of climate change on the landscapes and the people, the safeguard of genetics and the connections between nature conservation and international cooperation.
The event will be held in English.
---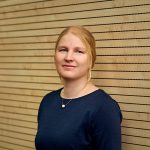 Helena Tukiainen
I am a geographer from the University of Oulu, Finland. My research focuses on the dynamics of geodiversity and biodiversity, and especially to their mutual relationships. In the current iGeoBio project which I work in as a postdoctoral researcher, we are exploring new empirical evidence for this relationship on different spatial and temporal scales. One of my key motivations to study this topic is to find new advantages for nature conservation, especially for halting the biodiversity loss in changing climate. Geodiversity, or the abiotic diversity of the earth´s surface (including variation in rock, soil, hydrology, topography and geomorphology) has conservation value itself but also a great potential to be used as a coarse filter strategy for biodiversity conservation. The FINA award offers me an excellent opportunity to attend to the IUCN conference, where I would like to share our findings about geodiversity- biodiversity relationships and discuss how geodiversity information could be utilized and considered in nature conservation.