Imaging with our eyes is very much related to light propagation through a transparent medium (air) and to reflection on opaque surface (most objects). In other words, we can only see surface of things. However, the structure of the earth, or of the sun is known with precision. How do we probe such opaque objects? How do we scan the human body? What links seismology to medical imaging? This conference will try to answer to these questions, will describe wave physics through a demo, and will finally introduce some latest developments in medical imaging.
The event will be in English. It will be followed by an exchange with the public and by a gourmand session.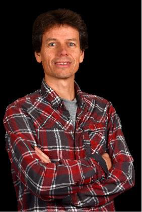 Stefan Catheline received his PhD degree in physics (1998) from University of Paris VII (Denis Diderot) for his work on transient elastography. His research conducted him from University of Paris to University of Lyon, France, via University of California, San Diego, USA, and University of Montevideo, Uruguay. Travelling was the occasion to learn about medical ultrasounds, underwater acoustics, wave physics, and seismology among other things. He holds 12 patents in the field of ultrasounds and seismology and wrote more than 100 research articles. He has been co-founder of two companies: Sensitive Object in the field of acoustic interactivity and SEISME in the field of elastography.