Without symbiotic gut-microbes, or without symbiotic fungi, we would not be able to digest food, or to enjoy the beauty of 25 000 species of Orchids. The Insect Symbiosis Ecology and Evolution (ISEE) research group at the University of Helsinki, studies the diversity of microbial symbionts, especially in insects. Join us to hear about diverse symbiotic systems through our lecture and discussions and discover other symbiosis through the 'Symb-hunt' game on StreetScience.
The intervention will be in English. It will be followed by an exchange and game interaction with the public and by a gourmand session.
Free entrance, registration required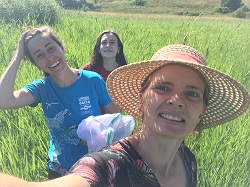 Anne DUPLOUY: Originally French, Anne moves in Finland in 2010 after finalizing her PhD thesis in Brisbane Australia. She received funding from the Academy of Finland in 2019 to start her own research group at the Faculty of Biological and Environmental Biology, on the Vikki campus. She is interested in the role of microbial symbiont in shaping the ecology and evolution of species and species communities. Anne spends her free time with her young son and at the horse club.
Camila BERALDO: Originally from Brazil, Camila joined Anne in December 2019 to conduct her doctoral research at the University of Helsinki. Camila studies the effect of temperature and habitat degradation on the composition of the microbiota of interacting species. Camila is also involved in a science podcast.
Federica VALERIO: Originally from Italy, Federica moved to Finland in May 2021 to conduct her postdoctoral research on the evolutionary history of the symbiotic bacterium 'Wolbachia', one of the most common symbionts found in insects. She uses genomic and phylogenomic tools in her work. She enjoys good Italian cuisine.